Land NFT Massive Airdrop Event for NewcomersEvent
2022-09-26 07:03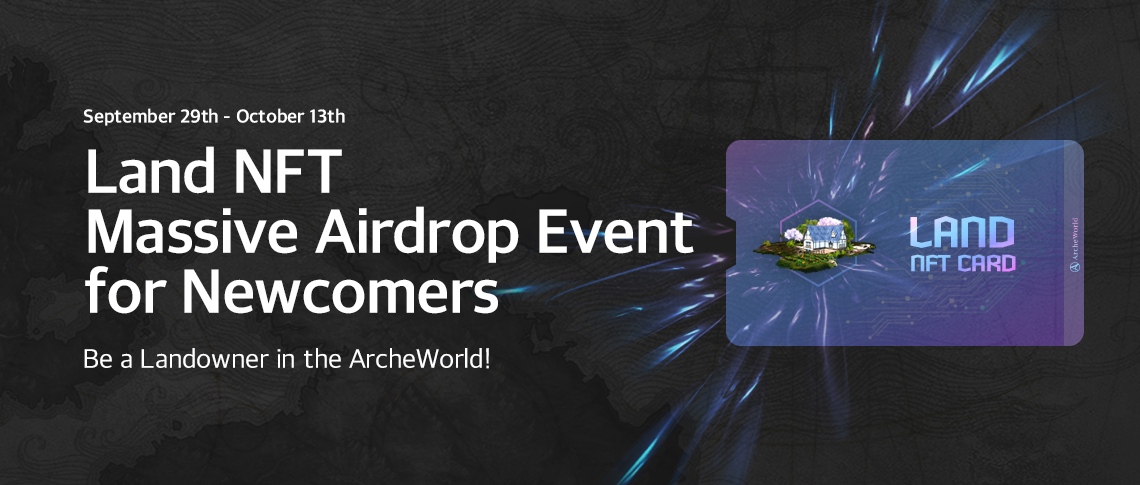 Hello, this is ArcheWorld.


[Period]
9/29 (Thu) after maintenance ~ 10/13 (Thu) before maintenance, 2 weeks
[Reward]
Standard Size System Land
[Event 1. Hunt and get Land!]
100% airdrop when acquiring 'Land Airdrop Confirmation Ticket' item which is specially dropped during the event period.
#If you have multiple Tickets, you will be airdropped the Lands according to the number of Tickets.
※ Note: All the accounts that have obtained a Ticket will be carefully checked, and macro & abusing accounts will be excluded from the airdrop.
[Event 2. Exclusive benefits for users without house! Make a Land contract and get Land!]
100 people will be drawn among those who have made Land contracts
- Subject: All accounts that have Land rent history at least once from the official launch on 9/1 (Thu) before 10/13 (Thu) maintenance
#Contracts for both system Land & user Land are eligible for the draw / However, accounts that own at least one Land NFT are excluded from the draw of Event 2
[Event 3. Are you an ArcheWorld NFT holder? Let's get land!]
1) 100 winners among Fandom Card NFT holders
# The higher the number of cards you hold, the higher the chance of winning (regardless of properties such as level)
2) 100 winners among Land NFT holders
# The higher the number of Lands you own, the higher the chance of winning (regardless of size and location)
Snapshot for NFT holders: October 12th (Wed) withing 23:00 ~ 23:20 (UTC+8)
# If there isn't any BSLT deposit record or the character level is less than 50, you will be excluded from the draw
[Winner announcement and Reward Grant]
Winners will be announced on October 14th (Fri) by 18:00 (UTC+8) and rewards will be sequentially airdropped after the announcement
[Caution]
In the System Lands which will be airdropped for this event, there may be a tenant who has already made a contract, and for a System Land tenant, a user landowner may occur.
ArcheWorld will continue to come up with the profitable events for users and strive for ways to welcome new people and expand the user diversity.
Thank you.