BSLT Roulette Event (edited 4/3)Event
2023-03-02 03:00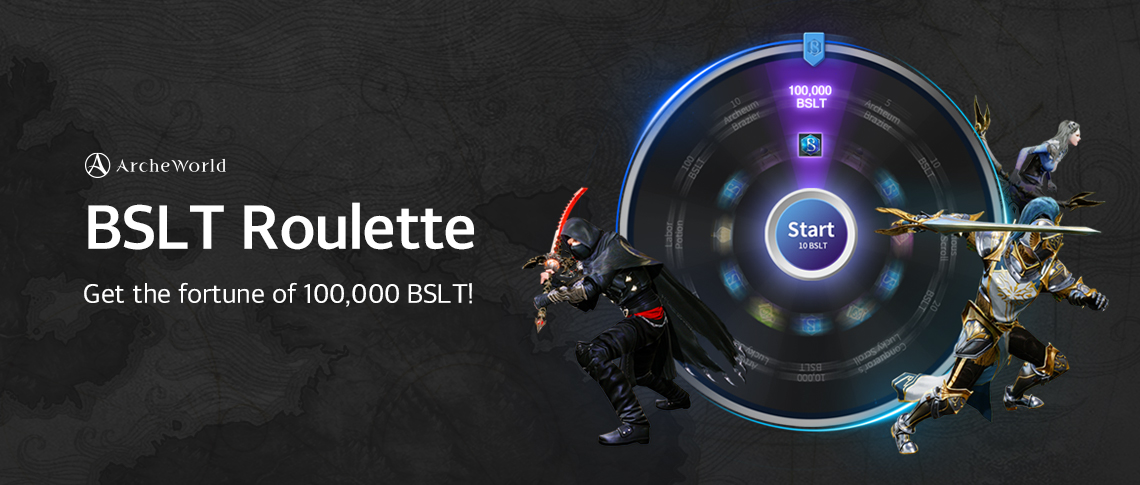 Hello, this is ArcheWorld.
Gain up to 100,000 BSLT!
BSLT Roulette Event will begin.
Refer to the details below, participate in the roulette and receive rewards.
Schedule
---
Period : March 2 (Thu.) After maintenance ~ Until Further Notice (edited 4/3)
Details
---
Receive roulette rewards by spinning with the BSLT in the ArcheWorld account.
You can participate in the Roulette page by pressing 'Start Now!,' and 10 BSLT will be spent when the roulette is spinned.
The Roulette can be spinned 100 times maximum per daily.
Rewards including 10 ~ 100,000 BSLT Airdrop and ArcheWorld consumables are prepared as shown below.
Category
Item
BSLT
10 BSLT Airdrop
20 BSLT Airdrop
100 BSLT Airdrop
1,000 BSLT Airdrop
10,000 BSLT Airdrop
100,000 BSLT Airdrop
Consumables
Artisan's Lucky Scroll
Conqueror's Lucky Scroll
Illustrious Lucky Scroll
Labor Potion
10 Gold Coin Pouch (edited 4/3)
Archeum Brazier * 10

Notes
BSLT reward will be deposited in your account and item rewards will be given as coupon.
The coupon is valid for 30 days from the day it is given, and after the period, it will be deleted and cannot be reissued.
All event items cannot be restored.
If you have any questions about the event, please contact us via Ticket.