ArcheWorld NA&SA 2 Server Launching and Land NFT Minting Plan Announcement (added 4/18)Event
2023-04-13 09:50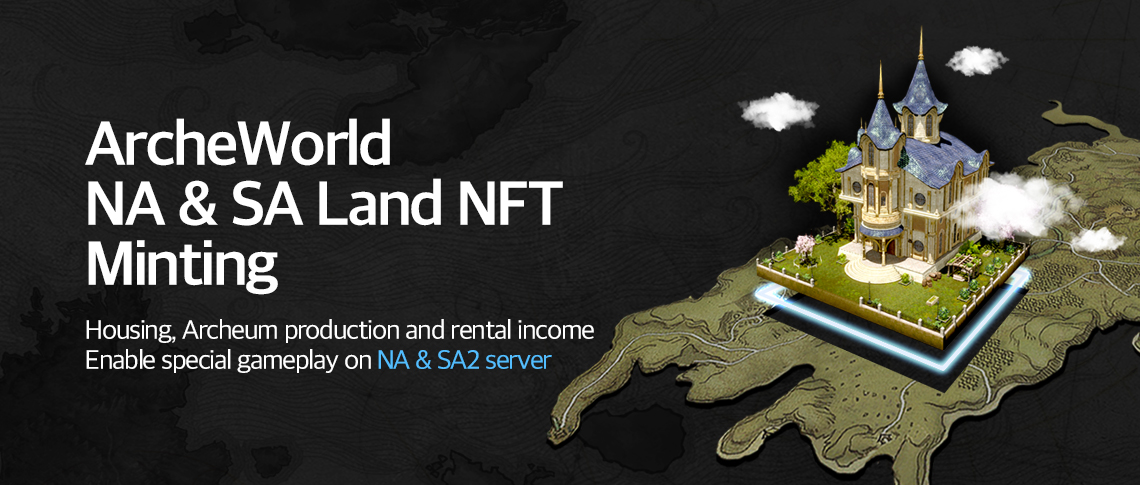 Hello, this is ArcheWorld.
We would like to express our deepest gratitude toward your interest and support so that ArcheWorld NA/SA 1 server minting can proceed successfully.
The ArcheWorld team is expanding strategic collaboration with influencers and DAOs by strengthening marketing plans for the successful opening of the NA/SA region.
After the minting of the 1st server, we are receiving inquiries and requests from many local influencers, DAOs, and gamers about opening the 2nd server.
We comprehensively considered local trends, pre-registration event status, and long-term perspective.
After careful consideration, we concluded that opening two servers in advance at the same time would provide a better in-game experience to users if there's a need to open two servers in NA&SA region as we can give an equal start of exchanges, Raid Instance dungeons, battlefields, and rankings in both servers, leading to increase trade volume to enhance and stabilize the value of BSLT.
To repay the support of everyone who believed in and stayed with ArcheWorld, we promise to do our best to create a stable and enjoyable game environment.
1. Major Check Points
Land NFT in the NA & SA server is serviced through Polygon mainnet, and minting is also conducted with Polygon(MATIC).
Existing Land NFTs in Asia Server will be continuously serviced in Klaytn mainnet.
2. Minting Details
(edited 4/14)
Minting Type
Minting Schedule
Land Size and Type
Amount
Minting Amount
Minting Price (MATIC)
Purchase Limit
[Public] Random Standard ~ MEGA Land Minting
[NA&SA] 23:00 (UTC-4), 4/17(Mon) [ASIA] 11:00 (UTC+8), 4/18(Tue)
44*44 = 1936㎡ (MEGA)
10
1,310
300
No limits (Max. 1 for 1 transaction)
32*36= 1152㎡ (Extra Large)
100
24*32= 768㎡ (Large)
200
16*24= 384㎡ (Medium)
400
16*16= 256㎡ (Standard)
600
- [UTC+0] April 18th (Tue) 03:00 ~ April 18th (Tue) 09:00
Quantity : 1,310

Price : 300 MATIC
3. Notice

Land NFT minting is available for only once per transaction, and the BOT blocking function is applied in '2 seconds' from the same IP.
- Please note that minting may not be proceeded normally if duplicate transactions are attempted within 2 seconds.
The 6-month BSLT airdrop for land holders in the Asian region was a benefit upon the first opening of the ArcheWorld service, and the BSLT airdrop does not apply to lands in the NA & SA server.

When minting, only the PC environment is supported, and minting is not possible from mobile devices.
The minting page will be released one hour before the start of minting, so please refer to it.


Thank you.