Equipment Item NFT Conversion System Open! (edited 5/24)Notice
2023-05-24 05:00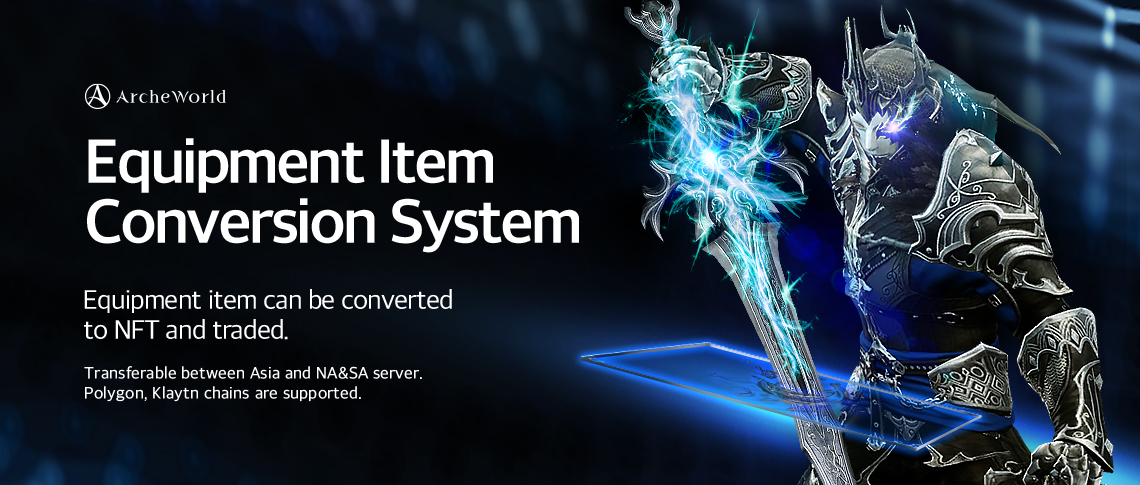 Hello, this is ArcheWorld.
After the maintenance 24th May(UTC+0),
The Equipment Item NFT Conversion System will be launched in ArcheWorld.
Only equipment of 6T and over can be converted into an NFT,
and can be NFTied by selecting Polygon or Klaytn chain.


When converting an item to NFT, a fee of 500 BSLT(1,000 BSLT for two-handed weapon) is consumed,
and the secondary transaction fee is set at 7.5%, same as Land NFT.

(edited 5/24)



Equipment converted into NFT can be traded and moved without regional or server restrictions.
[How to convert Equipment Item to NFT]
---
Click 'NFT Post' category in the ArcheWorld in-game menu → Right click the Equipment and register →
Type in NFT Creator Comment → Select Blockchain(Polygon or Klaytn) → Click 'Confirm'
[How to receive/apply Equipment Item NFT in the game]
---
Click 'NFT Post' category in the ArcheWorld in-game menu → Click 'Owned' category →
Click the equipment item NFT and click 'Burn' → Receive the item in the mailbox → Equip the item in the inventory
For more details, please check The Adventure of Moa in ArcheWorld Youtube channel.
The Adventure of Moa: Equipment Item NFT Guide:

(edited 5/24)
[ArcheWorld Equipment Item NFT Exchange]
---
For all NFT transactions, please access and proceed only through the official link provided by ArcheWorld,
and please beware of any scam links.
Thank you.