ArcheWorld 1st Anniversary Video Event!Event
2023-07-20 02:00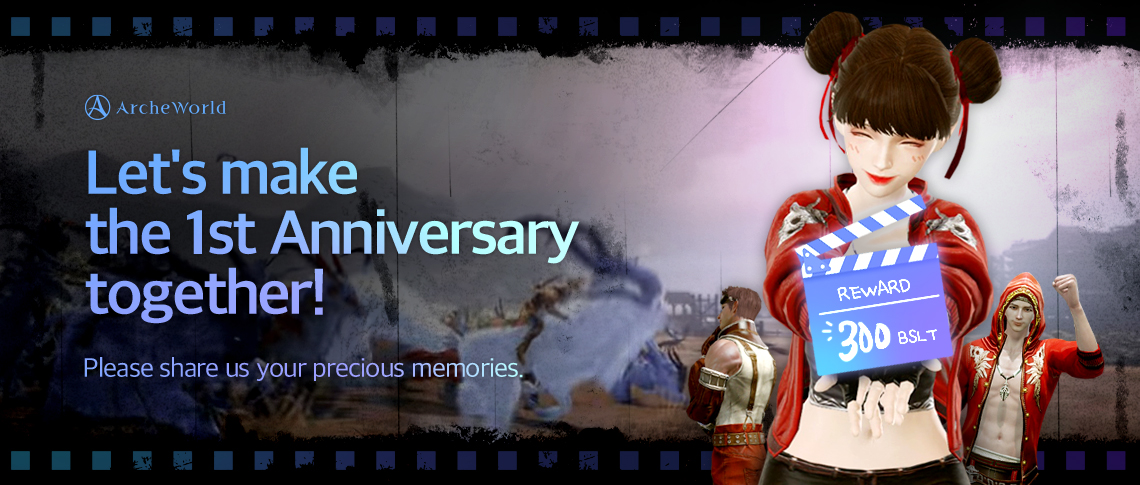 Hello, this is ArcheWorld.
Event
<
ArcheWorld 1st Anniversary Video Event!
>
On the upcoming September 1st,
with the great love and affection you have given us,
ArcheWorld finally celebrates its 1st Anniversary!

To share the moments of joy and precious memories while playing ArcheWorld,
We are going to make an ArcheWorld 1st Anniversary Video with users.

Building house with friend, fighting together..
Please send us any kind of meaningful memories in ArcheWorld!
Those who are selected for the 1st anniversary video will receive great BSLT rewards.

Event Period
---
After maintenance on 7/20 ~ Before maintenance on 8/10 (3 weeks)
Target
---
Event Details
---
Send us any ArcheWorld videos!(Regardless of genre: PVP, farming, construction etc.)
How to Participate
---
Upload 30 seconds length videos related to ArcheWorld to file only on Google Drive.
* When shooting a video, press F12 to make the in-game name/guild name invisible!
* The higher the quality of the video, the higher the chance of winning!
Submit through Google Form with information including video link, character information, wallet address and etc.
Google Form link: : https://forms.gle/LCLCvR9oPx69dkQM7

Rewards
---
300 BSLT if

your video is used in the 1st Anniversary video!
Notes
It's 1 apply for per video, and you can apply unlimitedly as many as the number of videos uploaded by individuals.
Ex) If you have uploaded 5 videos, you can submit 5 forms.
If you do not submit the Google form or enter invalid information, you will be excluded from the participant list.

The wallet to receive the reward cannot be replaced after the Google form registration is over.

If you use other's images or videos, you will be excluded from participation.
We ask for your eager participation,
and we will greet you soon with Phase 3 update and rich events that will come along with the 1st Anniversary.

Thank you.