Character Server Transfer Service Permit in Asia RegionNotice
2023-11-13 08:03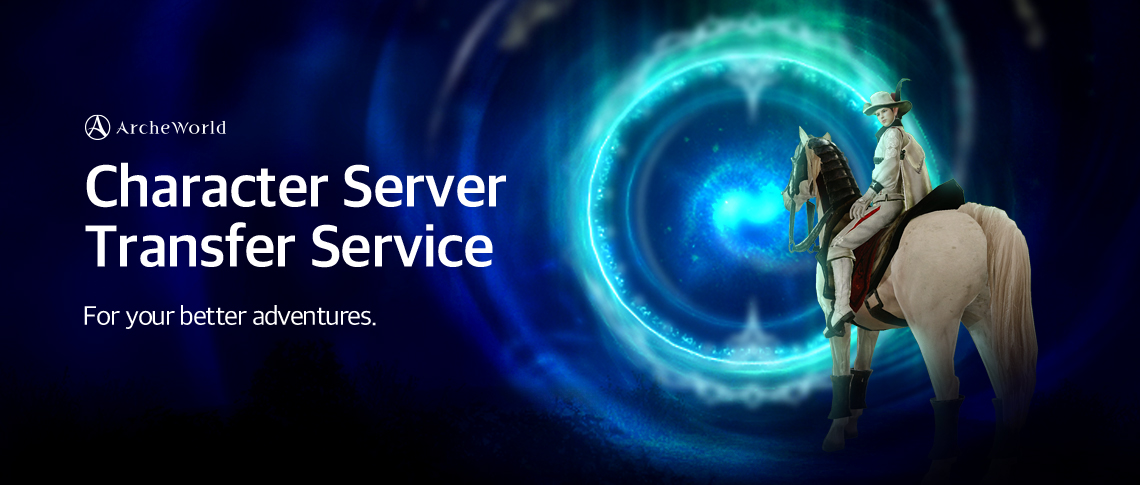 Hello, this is ArcheWorld.
The Server Transfer function, which has not been endabled in the Asian region, is now open. Here is the detail for the server transfer in Asia region.
1) Open Schedule
- After maintenance on August 15
(Thu)
, 2023

2) Subject
- Characters in ASIA 1,2 server (transferrable only in same region)

3) How to Register

-
Website > xBlueSalt > Shop


4) Transfer Cost

-
300 BSLT (for 1 time)
5)
Major Transfer Restrictions
You should be Level 10 or higher, must leave the guild and family, and must not have a contracted land.

You must not own any non-transferable items. (Blue Salt Brotherhood Star, housing blueprints, etc.)

The character must not exist on the server you are transferring to. (Limit of 1 character slot per server is maintained)

The current labor is applied based on the server, not the character.

Characters whose servers have been transferred cannot be re-transferred for 24 hours.
6) Remained Information
Level / Exp / Achievements / Quests

Bag / Warehouse / Equipped Item / Gold / Archeum / Mail (Max. 1,000)




ArcheLife Stage / Daily Contracts / ArchePass
7) Deleted Information
UCC / Time Seal and Title

Instance Dungeon Sweep History / Ranks

Community (Friends/Family/Guild)
Please refer to the above information to avoid any inconvenience.
Thank you.