ArcheWorld Settlement Support Event for New Users!Event
2023-11-15 06:25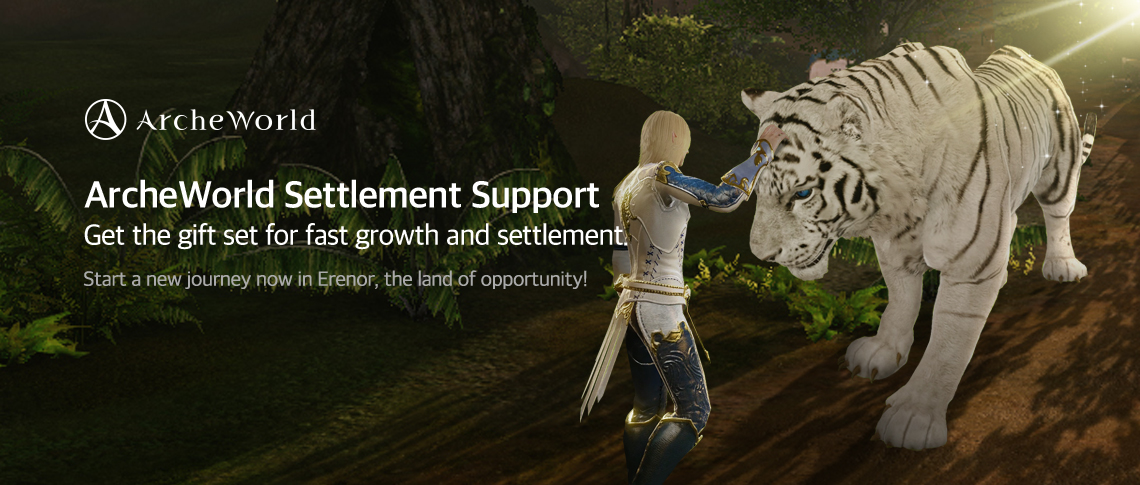 Hello, this is ArcheWorld.
ArcheWorld is opening an event for users to more easily settle down in the game.
A great chance to get full T4 equipment set, Rare Mount/Glider and T5 Weapon! Please hurry!


Event Period
---
After maintenance on Nov. 15 ~ Before maintenance on Dec. 13 (UTC+0) (4 weeks)
Target
---
All newly created characters during the event period (regardless of account registration date)
Event Details
---
Obtain rewards after completing the three quests below
Quests
---
1.
Quest 1)
Mission:

Complete 1 guild mission (regardless of category)
How to do: Join the guild through 'Menu -> Community –> Guild' and complete a simple daily task!


Reward: Rare Mount 'Shayeera(45 Days)' + Rare Glider 'Glider of Hope(45 Days)' each
2. Quest 2)
Mission:

Donate one Villager Voucher
How to do: You can obtain Villager Voucher by renting land and completing the daily quest that can be accepted from a completely built house.
Reward: Artisan's Mirage Equipment Bundle(45 Days/ Can be acquired and worn at LV.1 when conditions are met)
3.
Quest 3)
Mission:

Donate seven Villager vouchers
How to do: If you manage a larger sized lands and consistently complete Villager Voucher quests, you can quickly acquire more Vouchers.


Reward: 1 out of 6 types of Conqueror's Mirage two-handed Weaopn: 5T or Bow(45 Days)
Notes
Villager Vouchers can be obtained through the nameplate daily quest which can be accepted from a fully built house, and the quest can also be accepted from a Tent.

The periodic Equipment Bundle(4T) provided through the event is in Artisan's tier and Heroic grade, which gurantees you 14,500 or more Equipment Points. You can buy Blue Salt Brotherhood's Star when wearing the full set.

Event reward items are destroyed when the period expires, and conversion/dismantling/synthesis/effect replacement cannot be applied.

All event items cannot be restored.
ArcheWorld plans to carry out affiliate marketing with various DAOs and influencers along with the promotion to attract new users.
In addition, a Magic Eden NFT exchange fee 0% event is scheduled, and we ask for your interest and support for the event!


Thank you.