Wallet Verification Guideline (edited 3/23)Beginner
2023-03-23 03:00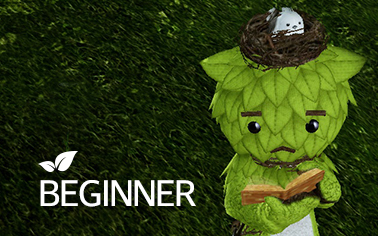 Hello, this is ArcheWorld.
You can directly create a new Face wallet and connect it to your ArcheWorld account in the ArcheWorld wallet verification info.
We would like to inform you about the newly updated Face wallet verification.
Face wallet is the simplest and safest wallet service for those who have difficulty using a cryptocurrency wallet.
Please read and follow the instructions in advance. (edited 3/23)

ArcheWorld wallet verification information has been initialized to connect BORA PORTAL on August 11(Thu), 2022.
We would like to inform you about the updated wallet verification.
Wallet verification is required to use various services, such as playing and paying for ArcheWorld, and receiving event rewards.
Please read and follow the instructions in advance.
New wallet verification of ArcheWorld is proceeded with connecting your wallet to BORA PORTAL.
Please install MetaMask first before verifying your wallet since you can only use MetaMask in BORA PORTAL.
* If you already installed MetaMask, please go to the next step.
Open Chrome browser.
Open Chrome webstore. Search 'MetaMask' and download it on your browser. If you cannot access webstore, you can download MetaMask by clicking the URL shown below:
https://chrome.google.com/webstore/detail/metamask/nkbihfbeogaeaoehlefnkodbefgpgknn?hl=eng

Now, you can open 'MetaMask' from extensions tab: the icon that resembles a piece of puzzle (If your tab does not appear, rebrowse the chrome or follow the directions shown below) - Click the three dots and access 'Settings' to add extensions.

Follow the process as shown below: Start> Create a wallet > Help us improve MetaMask (No Thanks) > Create Password > Secure your wallet (Next) > Secret Recovery Phrase (Next)



※ Secret Recovery Phrase would be ONLY seen in this page for ONCE so you have to keep it well. The Secret Recovery phrase consists of 12 randomly selected English words. This phrase would be used for the recovery so it has to be stored safely. If you lose your Secret Recovery Phrase, there is no way to get access to your cryptocurrency and NFT in your wallet.




Confirm your Secret Recovery Phrase as shown in the previous stage, and then wallet will be created.

After creating MetaMask wallet, proceed to add network. Press 'Add Network' and type the information shown below to add Borachain Mainnet.



| | |
| --- | --- |
| Network Name | Borachain Mainnet |
| New RPC URL | https://public-node.api.boraportal.io/bora/mainnet |
| Chain ID | 77001 |
| Currency Symbol (Optional) | BGAS |
| Block Explorer URL (Optional) | https://scope.boraportal.com/ |
If you haven't set the network in advance, please click [Approve] on adding MetaMask network notification pop-up when you visit Wallet Verification page.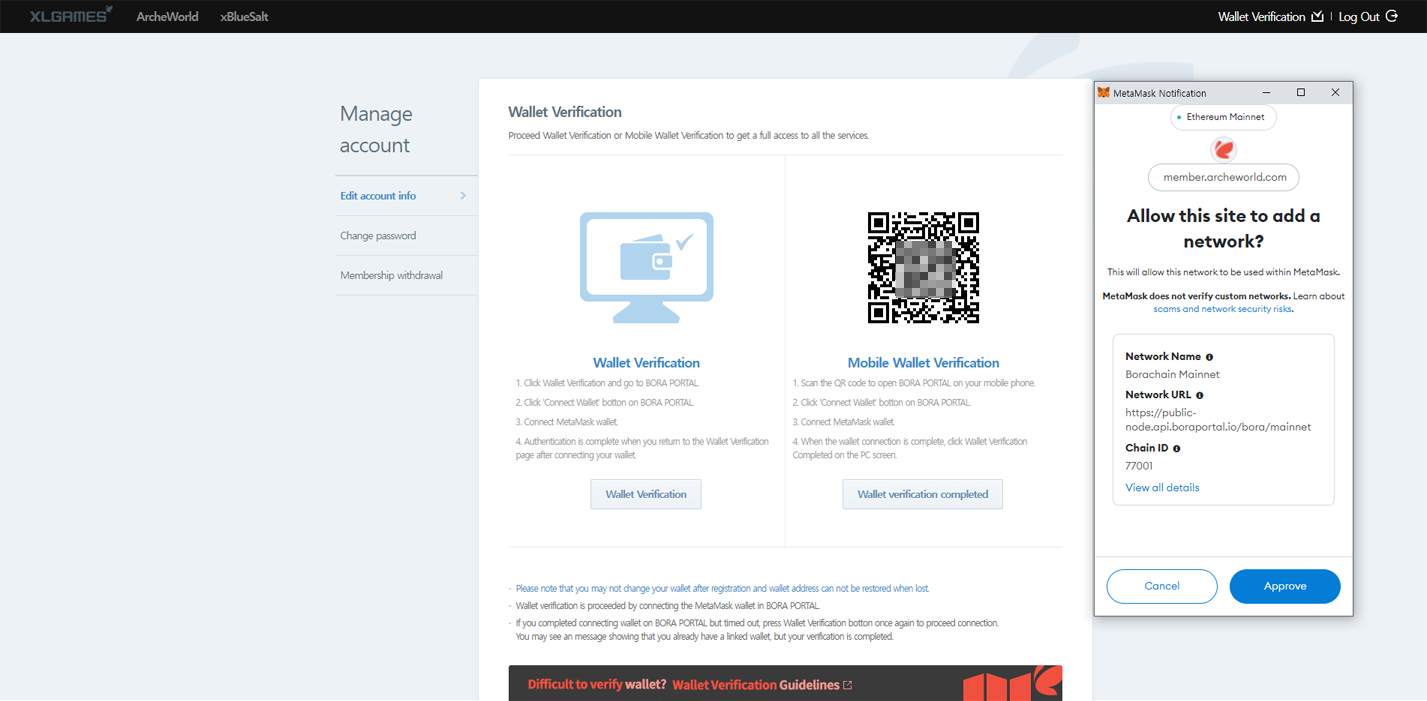 Step 2. Login and Click Wallet Verification

If you login to ArcheWorld website, there is [Wallet Verification] menu on the top right of the page.
Click on it to proceed to wallet verification.
※ You can directly proceed to wallet verification upon completion of email verification (for email account members) / completion of Terms of Service agreement (for Google linked account members)
Step 3. Terms of Service Agreement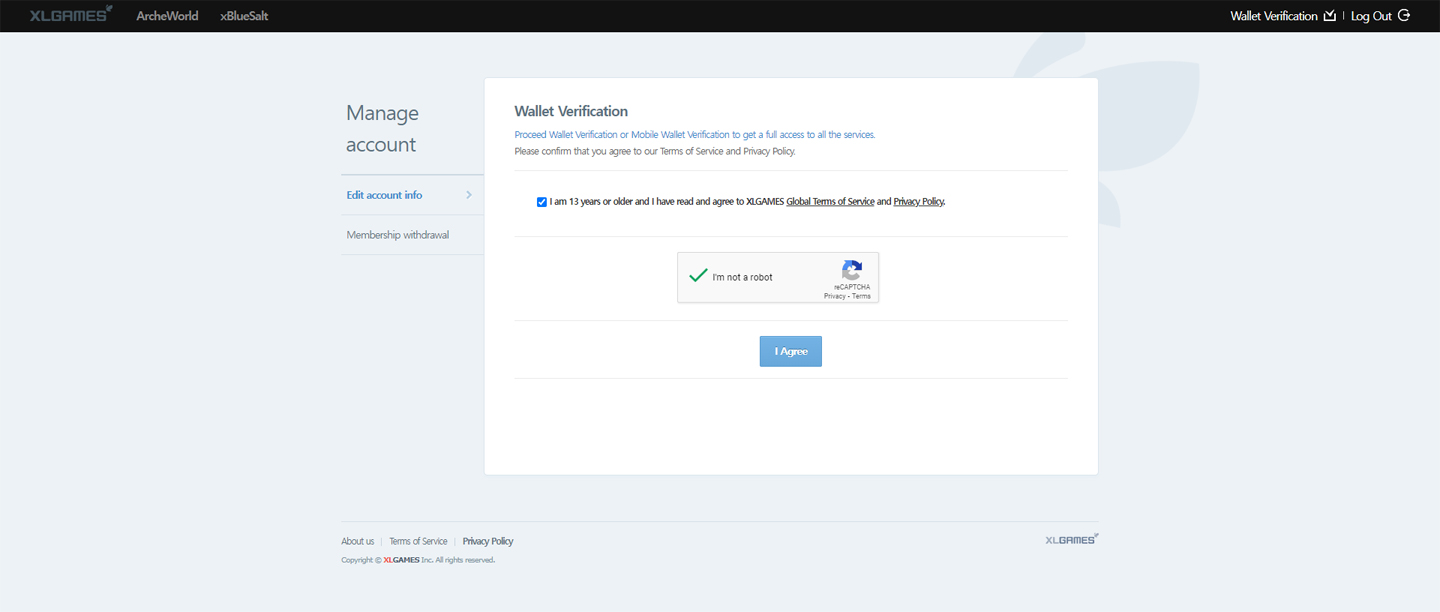 Before verifying the wallet, please agree to XLGAMES Terms of Service and Privacy Policy.
Step 4. Wallet Verification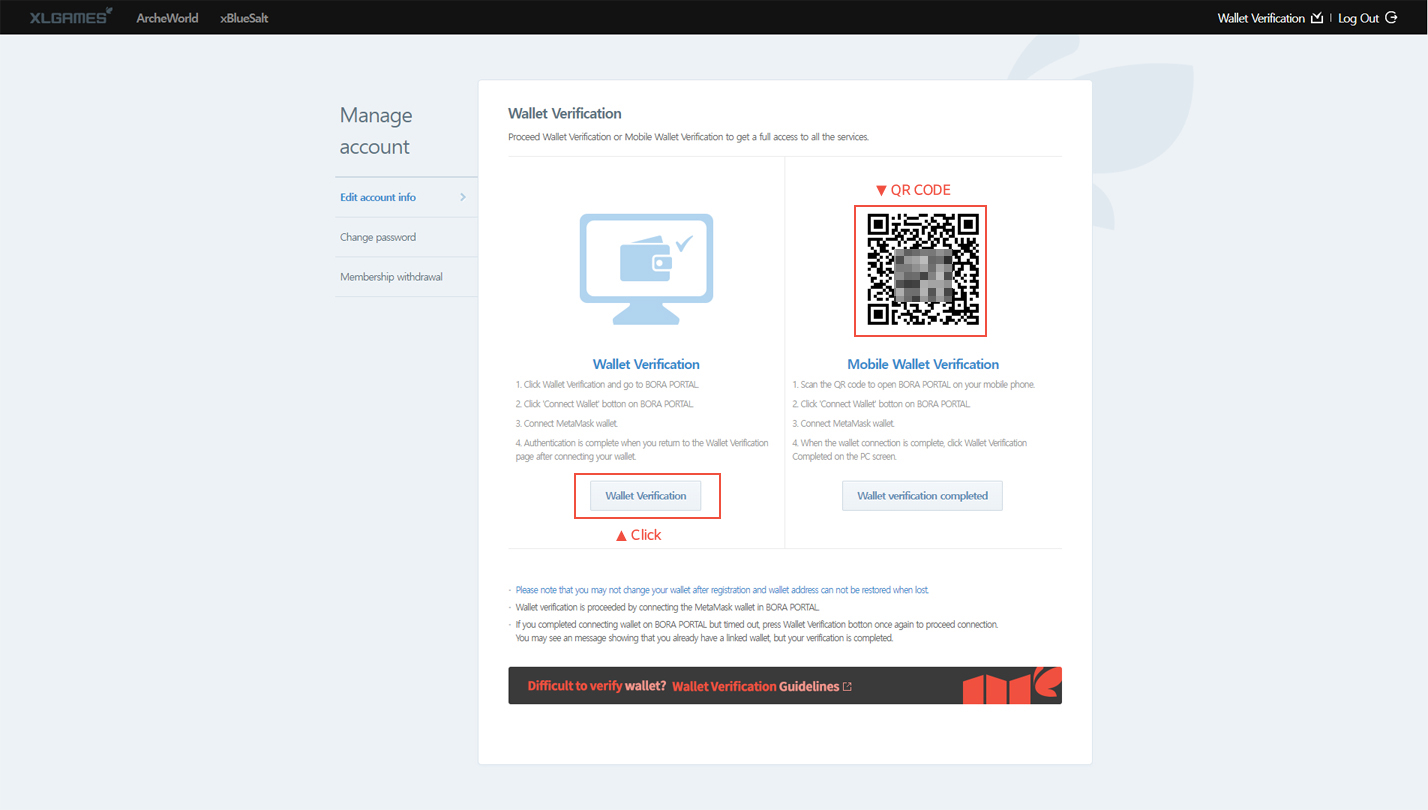 You can proceed Wallet Verification through clicking [Wallet Verification] in PC environment or scanning QR code in mobile environment.
Click 'Wallet Verification', or scan QR code with your mobile phone.

Wallet connection page in BORA PORTAL will be opened in a new window.





By clicking 'Connect Wallet', MetaMask wallet will be opened. Confirm the exact wallet address and proceed to signing.



Upon sign completion, BORA PORTAL Terms of Use will pop up. Check the agreements and click [Confirm].



BORA PORTAL connection is completed. Now you can add tBORA TOKEN to your wallet.



After closing the BORA PORTAL tab, wallet verification is completed.


※ If you have proceeded wallet verification with your mobile phone, make sure to click [Wallet verification completed] button on Wallet verification page in PC environment after completing BORA PORTAL connection.
---
This is the end of Wallet Verification Guideline.
We will continuously update information to provide useful guidelines.
Notes
Please note that you may not change your wallet after registration and wallet address can not be restored when lost.
Wallet verification is proceeded by connecting the MetaMask wallet in BORA PORTAL.
If you completed connecting wallet on BORA PORTAL but timed out, press Wallet Verification botton once again to proceed connection. You may see an message showing that you already have a linked wallet, but your verification is completed.